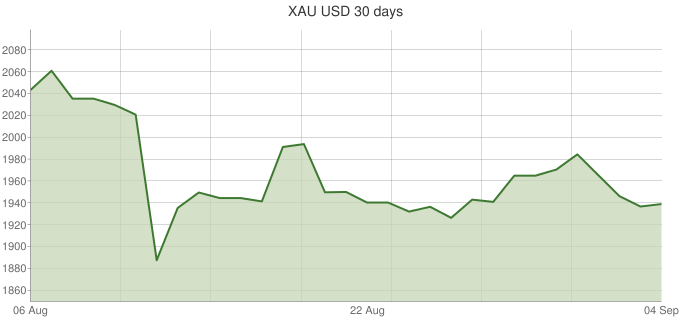 This Week in Gold
04.09.2020

Gold Price Movements Summary
Gold started the week at $1,964/oz, and rose to reach $1,992 on Tuesday as the dollar weakened. A sell off of the dollar was triggered by the Fed's new monetary policy strategy which is likely to increase inflation and keep interest rates lower for longer.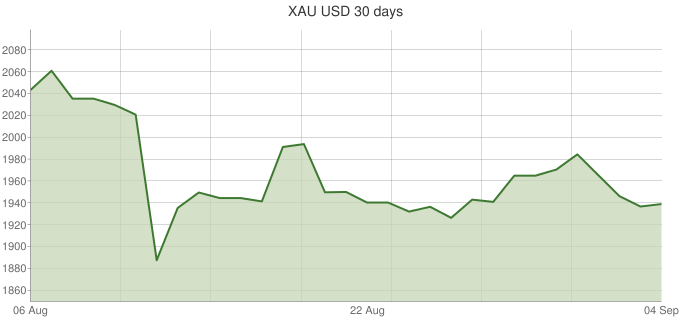 The U.S. Department of Labor released their weekly jobless claims report showing that the initial jobless claims fell by 130,000 to a seasonally adjusted 881,000. Gold futures on the COMEX division of the New York Mercantile Exchange fell on Thursday on these better employment figures.
However, a report released by the U.S. Department of Commerce on Thursday gave Gold some support and was prevented the precious metal from falling too far. The report showed an increase in the U.S. trade deficit of 18.9% to 63.6 billion U.S. dollars in July.
Fund That Beat 82% of Its Peers Sees Gold as Safe Election Play
Investors were seen to pull out of equities this week and focus their attention on gold and bonds as a turbulent US election is in sight. The Dynamic Precious Metals Fund outperformed 82% of its peers this year. Vice president and portfolio manager Robert Cohen sees gold as a "nice safe" bet heading into the U.S. election in November.
The fund achieved this success by climbing 63% this year from predominantly gold and silver investments
"Given the amount of debt in the world, the only politically acceptable way to get out of debt is to literally print your way out of it, which effectively devalues the currency and we're going to see that continue,"– Robert Cohen
Cohen alludes to how in such a case as this, investing in gold at this stime will increase the stability of the future purchasing power of the investor.
Heraeus released a report Tuesday, stating how it continues to see more upside future potential for silver.
Analysts at Heraeus Precious Metals have set a price target of $35 an ounce for silver by the end of the year, a gain of 21% from current prices. This would a sharp incline from last December's price of $28.725 an ounce.
On Wednesday, Silver was hovering not far away from its upper consolidation range at $29.84. Although a lot of political and economic uncertainty has already been incorporated into this price, the analysts said that conditions could continue to deteriorate sending silver higher.