Frequently Asked Questions
Please see below some of the most common questions asked by Belfast Bullion clients. If you have any further questions please do not hesitate to contact a member of our team on 0141 343 1306, or at [email protected].
Can I buy over the counter from Belfast Bullion?
Belfast Bullion keeps a large quantity of stock on site, which is available for immediate collection. Please contact a member of our trading team to inquire about any particular items.
Can you store my precious metals for me?
Yes, you can avail of the option of renting a Safe Deposit Box. Belfast Bullion is part of the Vaults Group, Europe's largest network of independent provider of Safe Deposit Boxes. With branches in across the UK and Ireland, our Safe Deposit Boxes lie outside the banking system.
The rental is a set annual fee, which means that you can store as much in your box as it will allow without being subject to precious metal price fluctuations experienced when charged a % fee of the value of your metal with other storage providers. You can also store many other items in your Safe Deposit Box, not just precious metals.
What forms of payment do you accept?
Belfast Bullion accepts payment by bank transfer, cheque and in cash. It is also possible to pay for smaller transactions using debit card.
Should I buy coins or bars?
The coins and bars that Belfast Bullion supply are all investment grade, solid gold products. Each bar and coin carries a premium above the spot price of the metal. The premium is determined by the availability, desirability, mining, minting and refining costs. Typically, coins command higher premiums than bars. Unless you have a preference for a particular item, it is usually cheaper to purchase bullion bars.
Which type of coins should I buy?
This is really a personal preference. The gold content in coins vary from 90% to 917/1000 to 999.9/1000 – this does not necessarily mean that a coin with 90% gold content is worth any less than the coin with 999.9/1000 purity – in the world of coins supply and demand is also a factor. Talk to any of our team for more details on the different types of coins available to you and what will suit you best.
Do you base your buying / selling prices on the live bullion price?
Yes, we take the live price and add/subtract the premium applicable to the particular coin or bar.
Does Belfast Bullion offer a delivery service?
Belfast Bullion does not offer a delivery service at the current time, but does keep a large stock of items that are available for immediate collection. Orders can be collected from any of our premises, and can be stored in your own Safe Deposit Box or taken away by our clients.
How long will it take to receive my order?
Belfast Bullion keeps a large quantity of stock on site, which is available for immediate collection. If we do not have the desired items in stock, a member of our team will advise you on availability timelines, which are generally 1-2 weeks.
Will you buy back my coins and bars?
Belfast Bullion guarantees to buy back any items we have sold. Belfast Bullion is also interested in buying precious metals purchased elsewhere.
How do I sell bullion back to you?
In order to sell to Belfast Bullion, items must be brought to any of our premises for testing and verification. A live price will be agreed there and then, with a bank transfer made to an account of your choice on the next business day (unless advised otherwise at the time of the transaction).
How do I know that my coins and bars are genuine?
All coins and bars sold by Belfast Bullion are sourced from the world's leading refineries. In addition to this, all products bought by Belfast Bullion are tested by us to ensure the gold or silver content and purity are as they should be. All gold purchases are accompanied by an invoice from Belfast Bullion stating that the purchase has been tested and verified by us.
How do I know my items are safe when vaulted with you?
All of Belfast Bullion's offices are situated within facilities operated by The Vaults Group. Founded in 2013, The Vaults Group is Europe's largest network of independent Safe Deposit Box facilities. Each of our vaults are purpose built and fully insured. Our Safe Deposit Box facilities are open 363 days per year, only closing for Christmas Day and Boxing Day.
Who owns Belfast Bullion?
Belfast Bullion is owned by Seamus Fahy and David Walsh who also own The Vaults Group – Europe's largest network of independent provider of Safe Deposit Boxes. We also operate bullion trading offices across the U.K. and Ireland.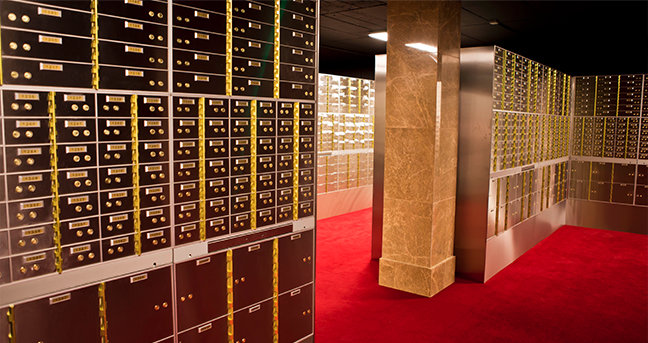 Store Your Gold With Us
Belfast Bullion is housed within
The Vaults Group, Europe's largest network of independent
providers of Safe Deposit Boxes.
Store Now