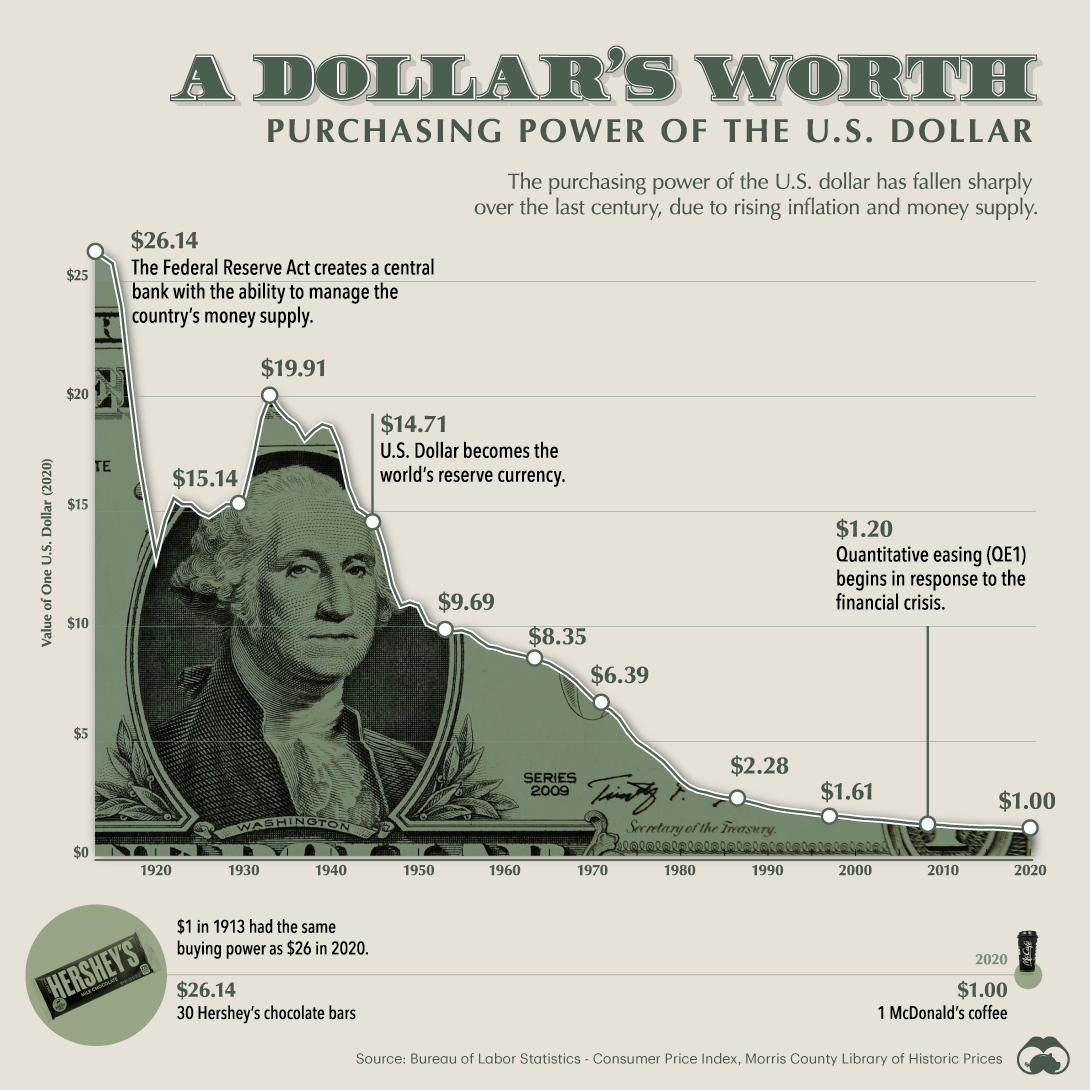 Rising Inflation & Precious Metals
Purchasing power of the US Dollar
Since the creation of the Federal Reserve System in the United States we have seen a sharp and constant fall in the purchasing power of the US dollar over time, a trend that has been accelerated since the abandonment of the gold standard in August 1971. This devaluation of the dollar has been caused by rising inflation and increasing money supply. In fact, $1 in 1913 had the same purchasing power as $27 today. This leads many investors seeking a better store of value than the US dollar. Gold and silver have been identified by many as a means of protecting an investor's purchasing power in the long run. Gold in particular can help investors protect against potentially excessive asset price inflation and currency debasement.
Inflation in the COVID Era
The White House more than doubled its forecast for annual inflation in projections released in late August, as supply-chain disruptions stemming from the Covid-19 pandemic continue to put upward pressure on prices. While the Federal Reserve has maintained that it is not worried about inflation, the US Commerce Department said that prices in July were up more than 4% from a year ago. For now, the Fed says they will continue to inject large sums of money into the economy with the aim of expediting economic recovery and improving employment levels.
This is not only an issue for the United States. In the Eurozone, the average prices of goods and services in July were 2.2% higher than average prices a year ago. The last time that a similar average price increase was recorded by the Consumer Price Index (CPI) was March 2012. The latest figures from Friday 27 August show that consumer prices in the eurozone rose by 3% in August. This far exceeds the ECB's 2% price inflation target.
With short-term deposit rates near zero, the real value of deposits will continue to be eroded by any further higher price inflation.
How are some investors responding to inflation running hot?
This is causing many inflation-wary investors to purchase gold as a hedge against inflation. For example, data from the World Gold Council shows that demand for physical bullion in Germany is at its highest level since 2009.
More remarkably, Palantir, the American software company, bought $50 million worth of gold bars in August. Palantir decided to invest in gold in response to the economic uncertainty resulting from the coronavirus pandemic and the response of governments response to it.
If you too are interested in purchasing gold, please call us on +353 (0)1 254 7901 or email us at [email protected] and we will be glad to assist you with investing in gold and other precious metals.
Sources:
https://www.npr.org/2021/08/28/1031976727/how-the-u-s-is-handling-the-rise-in-inflation