25/09/2020 – This Week in Gold
Gold opened on Monday at $1,953 per ounce. The price suffered a drop of nearly 3% on Monday alone, and finished the week nearly 5% down at $1,862. As equities fell for a fourth consecutive week, gold followed the markets down due to heavy selling to meet margin calls in the early days of the week. A brief rally on Friday failed to regain much of the ground lost earlier in the week.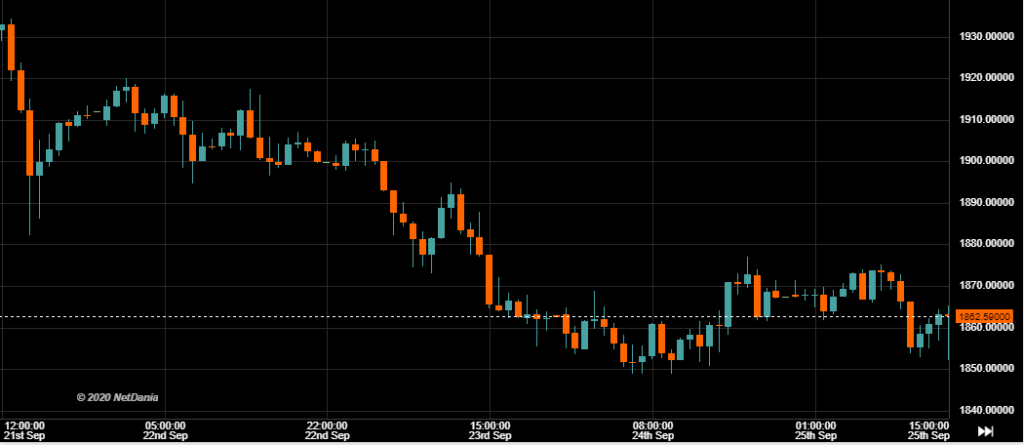 Analysts at Citibank highlighted uncertainty over the US Presidential election as a possible factor in leading to higher gold prices. As President Trump refused to rule out challenging an election loss, the fear of extended legal action afterwards was raised and caused jitters in financial markets. In Citibank's quarterly commodities outlook analysts increased their forecast for bullion futures, implying a rise of more than $200 from its current level. Citi analysts also mentioned Trump's plan to move quickly to replace the late Justice Ruth Bader Ginsburg on the U.S. Supreme Court as heightening the complexity of the race.
The election could be a major catalyst for volatility in the fourth quarter, which Citi analysts identified as "one reason why we expect gold prices to hit fresh records before year-end."
Despite subdued US yields, the dollar continued to trade higher, putting extra pressure on the gold price. The greenback was buoyed by stronger than expected US mortgage applications. The dollar continued to benefit from a safe-haven bid, which was not the case for gold this week. Despite this trend for the week gone by, there has been a significant increase in gold prospects among hedge funds and private investors as the Fed announced they are promising to hold interest rates to near zero until 2023.
In an article in which he was highly critical of the Federal Reserve's inflationary bias, John Pender of the Financial Times wrote that "this boils down to choosing between governmental paper promises and real assets such as property, commodities and gold. It is, in the time-honoured phrase, a no-brainer."